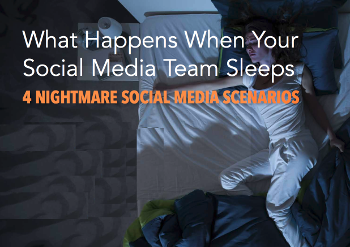 Download Your Social Media Crises Infographic
What Happens When Your Social Media Team Sleeps?
4 NIGHTMARE SOCIAL MEDIA SCENARIOS
Social media crises can strike at any hour and take off with lightning speed. All it takes is one tweet or comment.
See four nightmare scenarios that will make you rethink your brand protection strategy
Our Infographic, What happens When Your Social Media Team Sleeps, will show you what can and has happened overnight. This includes the most common mistakes:
Failing to Monitor Social Channels
Responding too late
Issuing tone-deaf apologies
Misidentifying trolls and rogue users
Get this useful InfoGraphic and start transforming your brand protection strategy today.